Welcome to Web Solutions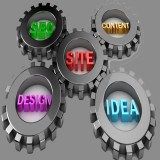 I am a freelance web designer passionate about bringing together vision with technical possibilities. While your website is something that nobody outwardly sees, it is built from the inside out. I make sure that the code is neat, tidy, and functional. This in turn gives you a website that performs better, works faster, and will give your users an overall better experience. And just so you know, you OWN the code once the website is complete - just in case you wondered.
I offer a complete range of services from domain name registration, web design or re-design, and updating your current website. I also offer hosting, website email, and web marketing. I can put together a competitively priced package to suit your budget and business needs and get your online business up and running at minimal cost.
Where To Go From Here
My aim will be to fully encapsulate your business, achieve what you desire, and help you connect with the people who count. You can easily contact me by sending me a message via the Contacts Page or call me! I'm always happy to assist.
Free, no obligation, initial meeting
Friendly, efficient, and personal service
Help and advice on all website matters
I take a real interest in your business